"Oil Boy Theology" - Don J. Payne
Don's Bio
Thanks for visiting my website. It is named "oilboytheology" because I grew up in small towns in the Permian basin region of West Texas and SE New Mexico (Jal, NM; Odessa, TX; and Kermit, TX). Those geographical/cultural roots have profoundly shaped me, both for good and ill, and for the most part I relish them. And I love theology -- and the University of Texas Longhorns -- a lot.
If you know my friends or hang out at Denver Seminary you may occasionally hear people call me "Donny Joe." This is not a nickname; it's my full legal name (that is, it is not Donald Joseph). Those not from the South seem to find this somewhere between curious and corny, though generally amusing. Personally, I'm fond of it, though I don't think my publisher cares to use it.
My wonderful wife Sharon (Stroup) and I were married in 1981. We love and enjoy each other immensely and I am still stunned that she said "yes." She teaches speech, drama, and literature at Front Range Christian High School and is an incredibly gifted director of their plays. We have three grown children whom we also love and enjoy immensely. Dani is a professional actor and 2008 graduate of Trinity Western Univ. in Langley, B.C. Jim is husband to Hilary, father of our beautiful granddaughter Odessa, works in marketing in the Silicon Valley, and is a 2011 graduate of the University of Colorado. Robb continues to pursue music and literature and is completing his degree at Metropolitan State University of Denver.
Sharon is from Williamsport, PA, which she is proud to tell people is the home of Little League Baseball. She is pretty much the greatest person I have ever known. Merging Central Pennsylvania with West Texas has been a cross-cultural experience (usually interesting and sometimes even entertaining).
We met in Chattanooga, TN at Tennessee Temple University and married just after I graduated. Sharon was a relatively new faculty member there, so I married up in more than one sense of the word! Later we moved to Denver, CO where I completed an M.Div. at Denver Seminary in 1988. After seminary graduation we returned to Chattanooga to embark on a church planting ministry that collapsed after just over a year. In 1991 the church in Denver where we had previously been involved while in seminary (Southern Gables EFC) called me back as an associate pastor and provided a gracious, supportive environment for practicing ministry. I served on the pastoral staff there until 1998, when Denver Seminary asked me to join the faculty to help build a mentoring program.
Along the way, I was privileged to complete a Ph.D. in systematic theology at the University of Manchester (through the Nazarene Theological College) under the wise supervision and godly examples of Dr. Tom Noble and Dr. Murray Rae (now at the University of Otago, NZ). Though my role has shifted from administration and oversight of the mentoring program to being fulltime in the classroom, I am still at Denver Seminary, serving as Associate Professor of Theology and Christian Formation. I teach the following courses.
Survey of Christian Doctrine, I and II
Christology and Pneumatology
Anthropology and Soteriology
Theological Method
The Theology of Work
Theology for the Practice of Ministry
Dynamics of the Spiritual Journey
Creating Transformational Cultures and Communities
Contemporary Issues in Theological Anthropology (ThM)
Biblical and Theological Reflection on the Practice of Ministry (DMin)
Research Interests
Christology, theological anthropology, the theology of ministry, sanctification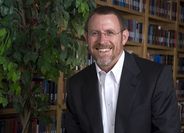 Current Writing Projects and Upcoming Papers, Workshops, and Speaking Engagements
Writing Projects
"Neglected Aspects and Implications of the Doctrine of Sanctification" - paper for the Evangelical Theological Society, November 2017
"Suffering as the Texture of Grace" - The Table
"Ecclesiological Highs and Lows: Thomas F. Torrance's Ecclesiological Influence on Ray S. Anderson" Participatio: The Journal of the T.F. Torrance Theological Fellowship
Currently working on a book accomplished ("positional," though I hate that word) sanctification and how it relates to Christian growth and transformation.
Upcoming Speaking Engagements
May 1 - July 15, 2017 - Castle Oaks Covenant Church - Castle Rock, CO (interim pastor)
March 19, 2017 - Conifer Community Church, Conifer, CO
February 26, 2017 - Hillside Community Church - Parker, CO
January 29, 2017 - Hillside Community Church - Parker, CO
January 19, 2017 - Bureau of Land Management - Portland, OR (mentoring training)
Leisure
Besides reading, which is both professionally and recreationally enriching, I enjoy hunting elk, deer, antelope, and feral hogs.
I enjoy working with my hands, including doing some of my own auto maintenance and repair. My 1988 Toyota 4x4 pickup (Frankentruck) has proven deeply therapeutic as well as functional for hauling, hunting, and camping.
Favorite Music
Mostly classical. I claim no expertise in the field, but find chamber music very pleasureable. Rachmaninoff and Samuel Barber grab my heart the most. Mozart's range and complexity fascinate me. For pop music, I'm stuck in "oldies" like Genesis and CCR. Despite my dad's influence and tastes, Country Western music never grabbed me except for Johnny Cash, whose visceral sound has a magic all its own.